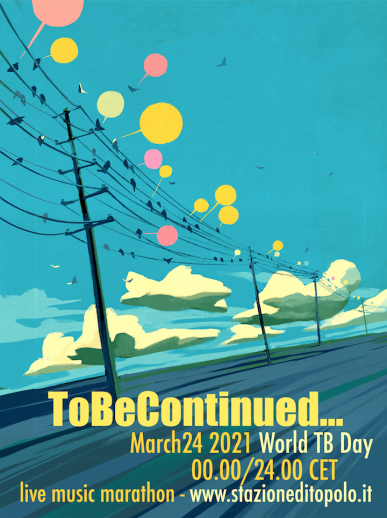 ToBeContinued
12th edition
World TB Day 2021
March 24th, 00 - 24 CET
Sounds from Stazione di Topolò/Global Health Incubator across the World

http://www.stazioneditopolo.it/24h-2021/index.html (live link here)
our special team for 12th edition, see below team list,
Dickson Dee + Sunset Workshop Group
(all sound elements from Winnie Yip, Fractal, mafmadmaf , Spike Train, Kitho Lee, He Yanyu and Crystal Liu)
this live set sound elements all come from 7 Sunset Workshop team members, Dickson play and resampling with those sounds for TBC12
Dickson Dee: sound artist, curator, producer from Hong Kong, Dickson's work explores connections between sound, noise, art, video, dance, film, modern and traditional.
mafmadmaf: A visual and sound artist, fascinated by the geometric composition of sound and exploring its boundaries.
He Yanyu: 26, lives in Shunde, Guangdong, China. I am interested in possibilities of beings. Music brings me happiness
Fractal: A synthesizer solo project featured with a narrative tone and metaphysical ambient.
Spike Train: Spike Train is a representation of neural activity,and the embodiment of our consciousness and physiological activities.
Kitho Lee: A member of Guangzhou local label Qiii Snacks Records.
Winnie Yip: studied piano and classical music since I was a child, and I like dancing and singing. Like all kinds of music types. Now, I'm creating a music community, hoping to find other people who like music as much as I do. At the same time, I am also a mindfulness learner, hoping to explore the direction of art healing.

Crystal Liu : Conceptual artist-activist born in Taipei, based in Guangzhou
PROGRAMME
Please note that your system clock must be set on time in order to visualize the programme correctly. Times are in your local time.

| | |
| --- | --- |
| 07.00 | |
| 07.30 | |
| 08.00 | |
| 08.30 | |
| 09.00 | |
| 09.30 | |
| 10.00 | |
| 10.30 | |
| 11.00 | |
| 11.30 | |
| 12.00 | |
| 12.30 | |
| 13.00 | |
| 13.30 | |
| 14.00 | |
| 14.30 | |
| 15.00 | |
| 15.30 | |
| 16.00 | |
| 16.30 | |
| 17.00 | |
| 17.30 | |
| 18.00 | |
| 18.30 | |
| 19.00 | |
| 19.30 | |
| 20.00 | |
| 20.30 | |
| 21.00 | |
| 21.30 | |
| 22.00 | |
| 22.30 | |
| 23.00 | |
| 23.30 | |
| 00.00 | |
| 00.30 | |
| 01.00 | |
| 01.30 | |
| 02.00 | |
| 02.30 | |
| 03.00 | |
| 03.30 | |
| 04.00 | |
| 04.30 | |
| 05.00 | |
| 05.30 | |
| 06.00 | |
| 06.30 | |
ToBe Continued is coming back on March 24th 2021!
ToBe Continued is the original concert lasting 24 hours (from 00 to 24 of March 24th, Central Europe Time), during which musicians from many countries world-wide will be connected to broadcast their live music. During this un-interrupted 24-hour marathon (ToBe Continued... in fact) each musician has a 30-minute window at her/his disposal to create a relay of sounds and rhythms that will range across different streams of music.

The event, that will cover in its entirety the full World TB Day on 24th of March, is coordinated by Antonio Della Marina, musician and computer music composer, and by Moreno Miorelli. The initiative is under the aegis of the Global Health Incubator, the 'laboratory' established in July 2009 in Topolò by Dr Mario Raviglione, today Full Professor in Global Health at the University of Milan, to create links between the world of creativity and that of science.

The participating musicians will perform live from many different countries including all the 5 Continents, creating a symbolic tour of the world with 48 stops.

As long as an internet connection is available, anybody can listen to ToBe Continued... simply connecting to the website www.stazioneditopolo.it
The event includes several public listening points: bars, libraries, cultural centers, art galleries, shops, web radio, all listed on the website, that will broadcast the concert. The list will be published on the stazioneditopolo.it web page.

Tuberculosis (abbreviated as TB in English and TBC in Italian) is a curable disease. Thanks to the strategies promoted by the World Health Organization in the last decades, consolidated today with all available innovations in what is known as the "End TB Strategy", TB incidence and mortality have been reduced, although slowly. However, TB is still one of the top 10 causes of death in the world and the leading cause of death from an infectious disease with its 4300 victims every day. Unlike what many may think, TB is still a significant problem even in rich countries, where it causes suffering and deaths.

The event is possible thanks to the collaboration with UNIKUM - Culture Centre of the University of Klagenfurt
ToBeContinued has the patronage of the World Health Organisation and of the University of Milan.

info: 0039 335 5643017
past editions: www.stazioneditopolo.it/24h-2019 (and 2018, 2017, 2016, 2015, 2014, 2013, 2012, 2011, 2010)
morenomior AT gmail.com
antonio.dellamarina AT gmail.com